Anti-Trans bigots at GW draws larger counterprotest, Hate Bus stays other side of town
Update 4-4-2017:NOM published photo of hate bus at US Capitol, this was apparently as close to GW as they dared to approach.Not sure when photo taken either.
On the 3rd of April, NOM's so-called "Free Speech Bus" also known as the "hate bus" for anti-Trangender images on its sides was due to appear in DC. A few anti-Transgender bigots showed up at George Washington University and attracted a student counterprotest leavened with counterinaugural veterans. They left after about an hour, with nobody having found the "Hate Bus," and were from an apparently unrelated group. There was no mention on NOM's twitter feed of even arriving in DC. The following day, NOM published a photo of their fugitive "hate bus" near the US Capitol without any right-wing rally around it.
The bus was a project of the anti-GLBT group National Organization for Marriage or NOM, while the anti-transgender bigots who showed up at GW displayed Catholic oriented extreme religious banners and literature. They gave out fliers from"The American Society for the Defense of Tradition, Family, and Property." It is unclear if they were connected to NOM's bus or were simply at GW to meet the bus. At any rate, there was no sign of the bus at or near 1701 K st between 10AM and noon, and no reported sightings of it on Twitter for the entire day despite an intensive search. The bus was unable to go anywhere near their stated destination.
The orange anti-Transgender "Free Speech" aka Hate Bus was origjnally supposed to be in DC on March 30 and 31, but its entire NE tour was delayed after the windshield was smashed in New York City. They had foolishly drive to the Stonewall Inn, site of the famous Stonewall Riots where a police raid on a Gay Bar (the Stonewall Inn) was defeated by force in three days of all-out street fighting. The annual Pride Parades celebrate this physical victory over the vice squad, BATF, and finally "tactical squad" and are the GLBTA community's "Independence Day" holiday. For an anti-transgender hate bus to drive to Stonewall was really pulling the lioness's tail.
On Saturday, April 1, the repaired hate bus showed up in Philadelphia, where it was engaged by militant street fighters throwing eggs and deploying smoke flares in the finest tradition of Stonewall. With visions of the fighting and that famous limo from Trump's Jan 20 inauguration no doubt dancing in their minds, they decided to get the heck out of Dodge, or in this case, Philadelphia. They left that city under police escort, as they had after being tailed by a rental van with pro-transgender banners in an earlier stop. The Hate Bus was supposed to be in Baltimore on April 2 but Twitter reports indicate they were a no-show.
Finally came the DC stop, several days late on April 3 instead of March 30-31. For the last few days before this event, Twitter posts indicated a one-upmanship among cities on the bus's route, with each being challenged to take things further than the last. As late as 5PM on April 3, Tweets were still circulating about "if you find the bus," indicating hadx yet to be found. Only the bigots from another group entirely showed themselves at GW, it seemed NOM and their bus were MIA. Only the following day did NOM publish that solitary photo of the hate bus near the US Capitol. The anti-Transgender hate bus tour may now be over, as DC was the last stop listed on any literature.

Video from the GWU counterprotest plus clip from Philly showing possible reason for hate bus no-show at GWU (1 min 3 sec)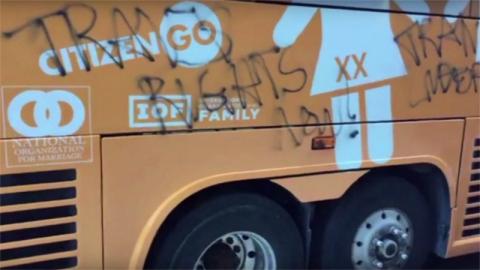 This graffiti on the Hate Bus came with a side order of broken windshield in New York City. With DC's post J20 reputation, it seems the bigots wanted to keep this but out of sight in DC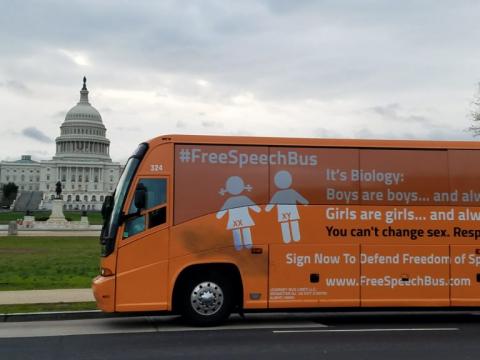 NO published this photo on April 4. Appears real, but nobody near the bus. Scouts were looking all over town for this bus but that did not make a quick, hurried stop by this fugitive bus impossible. They were nowhere near their published objective. The stain on the side may be battle damage from NYC or Philly