Trump defies quarantine, Hatch Act to hold "law and order" rally at White House
On the 10th of October, a potentially still-contagious Donald Trump invited 2,000 GOP supporters to a "Back the Blue" rally on the White House South Lawn. While the theme was law and order, Trump violated DC health codes concerning isolation while actively infectious with COVID as well as the Hatch Act. The Hatch act forbids use of government assets (such as the White House) for partisan political purposes.
Update Oct 10:After Trump's COVID party at the White House, Trump's Magat supporters marched through the streets, explicitly targetting Black Lives Matter with chants of "Jesus Matters," putting stickers over George Floyd's mouth on posters in front of the White House, and attempting to march over the Black Lives Matter murel on 16th st before being ordered not to by the very cops they worship.
Trump's rally could have run afoul of yet another set of DC health codes, namely Mayor Bowser's executive order limiting the size of "gatherings" to just 50 people. Trump invited 2,000 people. To avoid this legal issue, Trump billed his rally as a "peaceful protest," attempting to hide behind precedents set by Black Lives Matter. It has been said that no MAGA rally has ever been peaceful due to Trump's "Get 'em out of here!" endorsement from the stage of violence against counterprotesters. Some wags on Twitter have joked about breaking out the tear gas like on June 1 at St John's Church, or using the National Guard to break up the "peaceful protest" as the posters said he did in Portland. Using Customs and Border Patrol "BORTAC" teams is what actually happened in Portland, but only because the National Guard was too difficult for Trump to mobilize and then control.
It has never been litigated whether any COVID-19 restrictions on outdoor gatherings can legally be applied to First Amendment activity. No attempt was made to use them against Black Lives Matter protests in DC, but unlike Trump's "super-spreader" events, BLM protests have required all participants to wear masks and no COVID cluster has been traced to mask-wearing protests anywhere except possibly Portland, where police tear-gas induced coughing and forced people out of their masks. There WERE confirmed COVID clusters at earlier "reopen" protests in other places where masks were not worn. Trump publicly removed his mask during his Oct 10 rally, which in his circles is not just an invitation but a demand to do the same.
Post-rally video from Ford Fischer:
After Trump's rally:

Trumpers march mocking BLM, supporting theocracy with "Jesus Matters" chant 26 sec

Trumpers vandalize posters at 16th and H White House fence 6 sec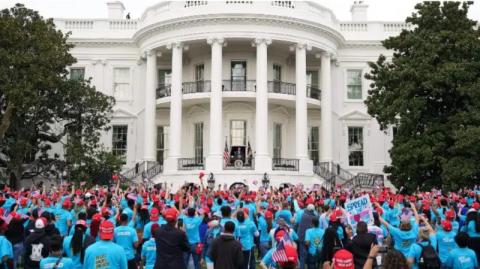 Photo from
https://heavy.com/news/trump-blexit-white-house-event/
Note the presence of the word "spread" on one of the signs