#NoDAPL protesters shut down two branches of TD Bank
On the 14th of September, activists opposing construction of the Dakota Access pipeline shut down two branches of TD Bank. Several of the protesters on Sep 14th drove all the way from Standing Rock, N Dakota, an over 20 hour drive. TD Bank is a major investor in the pipeline, just as they were a major investor in the failed attempt to build the Keystone XL. During that campaign some called them "Tar Dollar" bank. The first branch locked out customers after an advance team of three entered the branch to read out a letter condemning their investments in the pipeline. The second branch was found locked when protesters reached it, it is unknown if they had been locked up all through the protest at the first branch or locked up when activsts departed from there. TD Bank locked down so protesters didn't have to it seems.
During the protest that kept the first TD Bank branch locked, one of the speakers reported that Facebook blocked Unicorn Riot's live video of the 22 arrests on Sep 13, calling his feed "malicious." Once again Facebook is singling out progressive activists for blocking and interference at strategically chosen times. The "strategic time" chosen by facebook was the day riot cops pointed loaded guns at peaceful protesters in an attempt to keep pipeline construction going.
The guns and Facebook blackouts of Sep 13 were a failure, as were the dog attacks and pepper spray of Sep 3. On the 14th of September, activists yet again locked down to bulldozers to shut down construction. This time around 8 were arrested.
One way or another, and apparently no matter what the cost the Black Snake pipeline WILL be stopped.TD Bank and "Shittybank" need to think long and hard about how much cash they want to flush down another money toilet like the failed Keystone XL.
Urgent Update:N Dakota TV Station is reporting that felony charges are being pursued against the 8 people arrested in the Wed, Sep 14 lockdown. Also, on Thursday, Sep 8, Morton County, North Dakota had the nerve to issue an arrest warrant for "criminal trespass" against Amy Goodman for her coverage of the dog attack on the protesters. This warrant is a blatent attack on the first Amendment. I do not know if Amy Goodman has been arrested, if these fascists do not have her in custody their intention may be to prevent her return to N Dakota. As the author of this article I do hereby state that I have redistributed Amy Goodman's video (https://archive.org/details/DakotaAccessPipelineCompanyAttacksNativeAmer...) and will defy any demand to appear in any N Dakota courtroom for my intentional actions as an accessory after the fact. The land in question belongs to the Lakota, the police and the pipeline builders are like burglars in a house trying to post "No Trespassing" signs against the rightful owners. Such signs and any legal process stemming from them deserve the utmost contempt.

Video-marching on and closing two TD Bank Branches plus a warning for Obama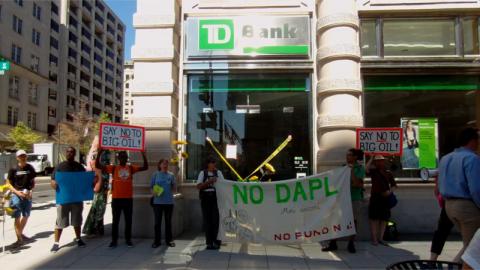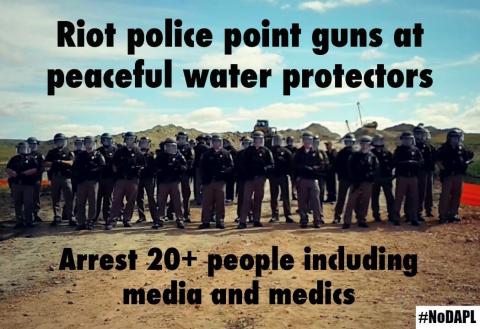 THIS is what TD Bank is paying for in N Dakota. Riot cops aimed loaded guns at peaceful protesters on Sep 13. Does Obama really want war with all Native people to be his Presidental legacy? These guns sure look like the work of someone who wants war.